Say Their Names
Friday October 23, 7 p.m.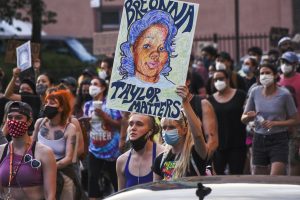 UNC playwright Jacqueline Lawton is working in collaboration with Honor Roll! — an advocacy group for women+ playwrights over 40 and their allies — to produce an evening of plays and monologues about Black Indigenous Women of Color (BIWoc) who have died at the hands of law enforcement. Written by BIWoC HonorRoll! playwrights and inspired by the #SayHerName movement, these readings will be following by a reflections panel discussion.
Tanisha Anderson
NeNe
by Celeste Walker
Sandra Bland
Technical Difficulties by Lisa B. Thompson
Eleanor Bumpurs & Deborah Danner
The Way I Want to Be Remembered by Jake-ann Jones
Georgina Maldonado
Daughter of the Sea and the Sun by Janis Astor del Valle
Vanessa Marquez
Vanessa by Diana Burbano
Nizah Morris
The Most Loving Thing to Do by Yvette Heyliger
Aiyana Stanley-Jones & Breonna Taylor
Now I Lay Me Down to Sleep by Cheryl Davis
Pamela Turner
Just Wanna Go Home by Michael Angel Johnson
Misty Upham
Never Be Afraid by Jaisey Bates
For more information and to RSVP, please email saytheirnameshonorroll@gmail.com.